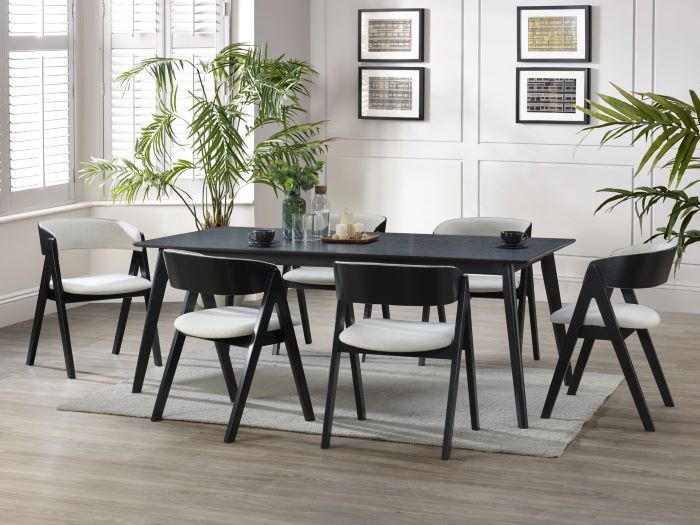 Your dining room is the most visited part of your home. From family gatherings to dinner parties, your dining table and chairs are just as much of a host to these events as you.
In building your home, you might think it's easy to choose a dining set, as it usually comes in pairs. However, the truth is that it takes so much to make the right choice regarding furniture. Material, design, and how it figures into your home's interiors all figure into your choice. Luckily, B2C Furniture's dining chairs offer style and quality that suits your personality.
While it's common to get a dining set for its convenience, trends in interior design and style elements paved the way for getting furniture by piece. Mismatched dining chairs have been trendy recently, and many homeowners are buying dining chairs by the piece for a more modern and refreshing dining interior.
But how do you know if a dining chair (or any piece of furniture, for that matter) is worth the splurge? Here are ways to find out:
1. Always Check the Materials
There's a wide range of materials used for dining chairs. Wood, plastic, leather, and laminates make it easy to get confused with all the available materials.
If you're looking for a dining chair made of a specific material, understand more about the material so you can tell if the item you're eyeing is legitimate and sturdy. Learn how to tell whether the leather is authentic or which type of wood is best. This way, you'll know what you're looking for and what fits your style.
2. Do a Weight Test
Your dining chairs will be seating your family and guests, so they need to be sturdy. Before buying, do a quick test by gradually putting weight on the chair to see if it holds and if it holds safely for long. Keep in mind that guests come in many different sizes, and your dining chair should be able to seat them comfortably with no worries or any untoward incidents.
Dining chairs made with light and hollow materials will not be able to hold weight for long, while chairs made of solid materials are meant to hold weight for longer. Choosing chairs that will last a long time is also a worthy investment to minimize any possible future costs of replacing them.
3. Read the Fine Print
Aside from the price (and the discounts, if any), the tag often includes the material, production date, and origin. These details can help you identify if the item is trustworthy and a good buy.
But if the tags are of no help, you can always ask for assistance from the store crew, who will be more than willing to tell you about the item. Ask them all the questions you have in mind, as they have the best knowledge of the dining chair you're interested in.
4. Check if the Price is Right
Not everything expensive is indeed good, and not everything good is expensive. Antiques are one thing, and even then, it takes quite a process to know if it is authentic or not to justify the price.
Before getting carried away by the hefty price tag, check the dining chair further to ensure it is worth it. Check the materials used, the production process, and the country of origin – these details are often the factors that make a piece of furniture pricey. You might need to reconsider if you find that there is no reason for furniture to be as expensive as it is.
On another note, not everything affordable is poorly made or scrimped on materials and features. Many furniture shops sell more economical options that are as strong as they are stylish. You can quickly check online for well-rated furniture shops within your budget near you.
5. Research the Brand and Construction
Famous furniture brands are famous because they're tried, tested, and trusted. But before you consider buying from a furniture shop, check the brand, its reputation, and, most importantly, its reviews.
Unless you opt for a custom-made dining chair, keeping track of construction might be a challenge. But, the strength and longevity of a furniture piece rely on how it's made. Knowing how well or poorly a piece of furniture is constructed helps you identify its quality and reliability in the long run.
Shop the Most Stylish Dining Chairs
Even a high-quality chair will not serve its purpose if it doesn't match your style and budget. Before you go any further, it's best to figure out what you need and start from there.
Take a good look at the interiors of your home. Figure out your style and align it with other features such as strength, comfort, and functionality. Doing so will help you determine the material and style that you need.
On another note, remember to manage your expectations and check for options within your budget. Despite budget constraints, be sure never to skimp on quality.