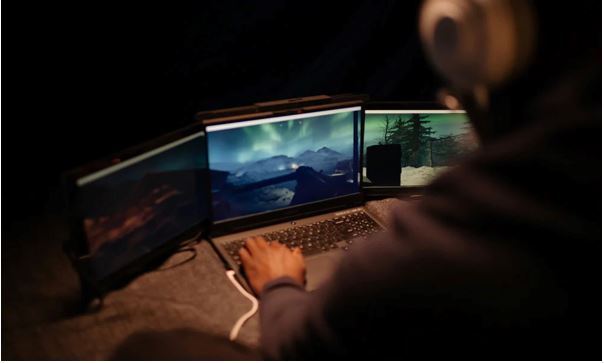 Laptops are great for portability, but not so much for screen real estate.
This can be pretty problematic for students who often find themselves doing multiple projects at once to meet the deadlines looming over their heads. No matter how advanced the machine, maximizing productivity is hard when you only have a 13- to 15-inch screen.
Unfortunately, even spending a ton of time on multiple projects may not translate to success due to context switching, which hampers performance.
The only way out of it? Invest in a multi-monitor setup.
Many people don't like adding monitors to their rigs because they are known to be bulky, hard to setup, and harder to install. So, it doesn't make sense to spend so much on something you can only use in one room….. Right?
Well, the answer is not black and white. Instead, it is crisp and clear with fantastic color accuracy: the revolutionary Mobile Pixels Trio portable laptop monitor.
Why We Love This Multi-Monitor Setup
Our laptop screen extenders make it easy for you to do multiple tasks at the same time without the need to toggle between tabs and jump between tasks. It has the potential to bring down errors by 20%, according to research conducted by the University of Utah, and is guaranteed to elevate your productivity.
The secret sauce? A boost in screen size.
It has two displays of 13.3" to 14.1" and a 16:9 aspect ratio. This is great for watching videos without cropping the sides and spoiling the viewing experience. Adding these to your study space will take all of your activities to another level.
IPS technology delivers crisp, detailed visuals with impressive color accuracy, so you can watch videos to retain even more information than text.
Should You Invest In Portable Laptop Monitors?
That depends on your goals.
As a student, it is important to focus on maximizing your time and effort. With limited resources, you need to get more work done in less time. A multi-monitor setup will exceed all your expectations in this regard.
What's more, it also provides much-needed portability and ease of installation: it's part of why 937 backers pledged a staggering $443,202 to help us bring it to life.
It takes inspiration from its predecessor, of which it is an obvious upgrade.
So, what should you expect from these laptop screen extenders? Let's take a look:
Lightweight Design
Weighing between 3.5 to 3.8 lbs, this setup is 20% thinner and one pound lighter than the previous generation. It can easily fit into your backpack, ready to go wherever you are, whether you want to use it in a classroom or library far removed from the study setup in your dorm.
You can catch up on your coursework practically anywhere and be guaranteed that it won't weigh you down.
Plus, the sleek and slim design is very aesthetically pleasing.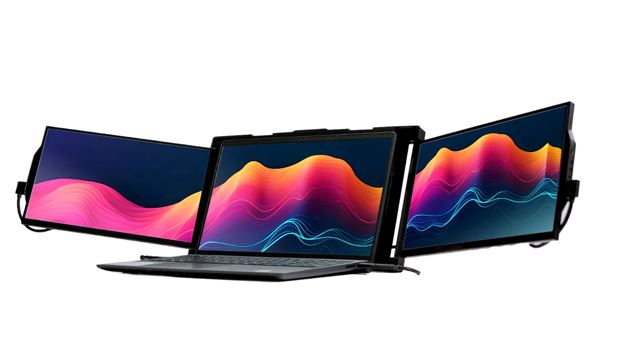 Great Construction
Made with ABS and aluminum, these portable monitors bring durability to the fore.
You can get a ton of use out of your setup for a very long time. This will also give you the freedom to make your study station mobile in any terrain without worrying about wear and tear. It will stand its ground against jostles, twists, turns, and everything that comes with transportation while looking and feeling premium.
Compatibility
This multi-monitor setup is compatible with macOS, Windows, and Android smartphones with a USB-C Displayport Alt or USB driver. This means you can easily extend your working space using your current setup—no extra investment required!
It also works like a charm when connected to a Nintendo Switch, so you can take a much-needed break from studying now and then and enjoy your games.
Easy Set-Up
This revolutionary setup has an incredibly easy installation process. Even those with little to no technical knowledge can get it right, and on the first try.
All you have to do is attach the laptop extenders with magnets (you can use the built-in kickstand as an alternative), slide out the displays, and connect them to your main screen with cables. And voila, your productivity real estate is exponentially bigger!
Pass-through Charging Capabilities
Laptop screen extenders are notorious for being power-hungry. This is because they drain laptop batteries to keep running, leading to a ton of strain over time.
This sounds worse than it actually is, unless you're enrolled in a graphic design program. Then, your computational requirements could be massive, so there's a risk you can do substantial damage to your battery's health and lifespan=.
To eliminate this risk, we equipped our portable machine with pass-through charging. This system charges your laptop and screens in one go; you only need a stable power source to make the magic happen!
Maximize Convenience with a Portable Laptop Monitor Setup from Mobile Pixels
Are you looking for a multi-monitor setup that you can bring wherever you go, but are wary of investing too much?
Head to our website between August 14th and 28th for our most-awaited back-to-school sale. With up to 40% off (no code required), you can stay on top of all of your tasks without burning a hole in your pocket.