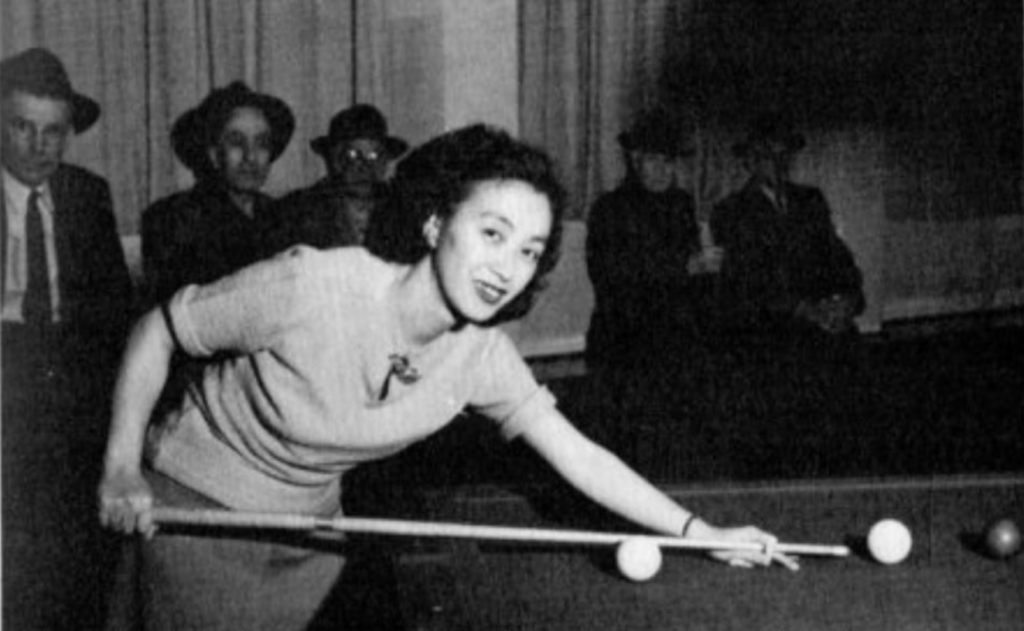 Masako Katsura is a Japanese woman who was born on March 7, 1913. Her nickname is Katsy, and she is known as the "First Lady of Billards." Billiards was a popular game among men just before Katsura stepped in. She was the first lady to play men's dominant game called billiards, and at the age of 15, she won the first tournament of billiards in Japan. Masako Katsura spent most of her life in Tokyo with her mother and sister, and with their support, she made her name in this game.
Early Life
Masako Katsura opened her eyes in Japan on March 7, 1913. She had one brother and three sisters. Katsura faced her father's death when she was 12 years old; after that, she lived with her sister and brother-in-law. She had health issues and was not strong mentally or physically. Her mother was worried about her, so she gave her advice to start playing billiards with her brother-in-law. Tomio Kobashi (Brother in law) has a billiards parlor, and Katsura has started playing there. Her brother-in-law is good at playing billiards, so he gave her confidence and helped her a lot. Katsura showed a mind-blowing game, and at age 13, she was playing regularly with her brother-in-law at 14 years old, she started working as an attendant at a billiards parlor. Her family buys a billiards table for her at home so that she can pursue her career in billiards further.
At the age of 15, she took part in the women's championship straight rail tournament in Japan and won the tournament. Then she started playing all over Japan, and after that, China and Taiwan. Her two younger sisters started their careers following Katsura and won 2 tournaments of straight rails.
In 1937, she met her coach, Kinrey Matsuyama, who remained champion for three consecutive years. He won the three-cushion championship and also the US national championship. Also, he gained second place and runner-up titles many times. He was impressed by Katsura's skills and started teaching her top-level billiards to make her the first female professional player in Japan. She became a billiards star in Japan and is looking forward to many successful opportunities.
| | |
| --- | --- |
| Name | Masako Katsura |
| Nickname | Katsy |
| Profession | Billiards Player |
| Age | 82 years |
| Date of Birth | 7 March 1913 |
| Birth Place | Tokyo, Japan |
| Date of Death | 20 December 1995 |
| Nationality | Japenese |
| Ethnicity | Asian |
| Zodiac Sign | Pisces |
Marriage Life
In 1937, Katsura organized a billiards event for Yank troops in Tokyo and gave a presentation on billiards. There she met American serviceman Vernon Greenleaf, who was a US Army sergeant in the Quartermaster Corps. Greenleaf has no relation to Billards, but he was impressed by Katsura's skills and started taking lectures from her. They fell in love with each other, and in 1950 they tied the knot of marriage. During the same year, she was named runner-up for the third time while also working hard in her personal and professional life.
Masako Katsura husband supports her very much in her billiards career. He moved with her to many countries where she participated in billiards to support her and boost her confidence. Masako Katsura husband was posted to the US for some service duties, and Katsura also moved with him. In 1951, Goldleaf was posted again to Tokyo from US Haneda Air Base. They don't have any children and set sail for the United States on the USS Breckinridge, arriving in San Francisco at the end of December 1951, barely a few months before the start of the 1952 World Three-Cushion Billiards Tournament on March 6, 1952. Katsura played in many tournaments during this period and won many of them. In 1967 after 17 years of their short married life, Masako Katsura husband died. It was a big loss for her, but she never lost hope and started to focus on her career again. She never married again and made billiards her life.
| | |
| --- | --- |
| Marital Status | Married |
| Masako Katsura Husband | Vernon Greenleaf |
| Father | Update Soon |
| Mother | Update Soon |
| Brother | Update Soon |
| Children | Update Soon |
Tour to the US for Billiards
Cochran won three-cushion billiards and was entitled an 8-time world champion from 1933 to 1945 consecutively. Cochran sent his son W. R. Dick Cochran who was a naval officer in Japan to investigate and make reports about Katsura ad her achievements. W.R. Dick make a successful report and Cochran was impressed and wanted to meet her. His son addressed his father that she play better than him and Cochran agreed with him after meeting Katsura.
Masako Katsura was invited to the US by Cochran to play at the world championship. Cochran has a parlor in the US and was organizing a tournament. Matsuyama told Cochran about Katsura's brilliant game and took her to the tournament. He took trails and she made 300 to 400 unbelievable shots. Finally, Cochran make an offer with her and selected Katsura as the first player in his championship.
First Lady to Compete For World Title
In 1952, Masako Katsura took part in World Three-Cushion Billiards and entitled herself as the woman who had competed for the world billiards title. Ruth McGinnis won 10 years before her and she became the first woman who played for the professional billiard championship in New York for first time. She plays against Willie Hope a 64 years old man who has the last tournament because he is going to retire the same year. Willie Hope won 51 titles in his entire career from 1906 to 1952. Willie Hope was also impressed by her skills and appreciated her a lot. An interesting match was played between Katsura and Willie Hope. Before the competition, it was predicted that when Hoppe faced Katsura in the final in the race to 50 points format, he would win, with Katsura still requiring at least 40 points. After watching her shots, Willie said "She has a good stroke and can make shots with either hand. I look forward to playing with her."
At Cochran's Club, a tournament was held between the top 10 champions including Katsura, Matsuyama, Willie Hope, and many others. She competed very well and Masako paved the way for women. For the first time, her presence has made the game appealing to women. She has manly strength and strokes well. Her cue ball moves are incredible. She only needs a little more experience to be invincible.
Exhibition Tours
Cochran declared shortly after the 1952 championship that he would be returning from a seven-year retirement to play an exhibition tour with Katsura. On 18 April 1952, Katsura and Cochran began their tour with a three-day performance at San Jose's Garden City Club. Thereafter, they planned tours in Kansas City, Chicago, Detroit, Cleveland, Buffalo, Boston, Philadelphia, Dallas, San Diego, Los Angeles, and Long Beach. In February 1953, Masako Katsura began another exhibition series with Cochran at his club, and in practice for the 1953 world tournament, which began on March 26, he embarked on a statewide tour with Willie Hoppe. The 30-day tour through the northeastern United States featured stops in Boston, Chicago, and other cities. Her husband is always with her for helping her with translation because she doesn't know English very well. During their multi-day exhibition tournament in Chicago, it was revealed that Katsura had won just one of four matches against Willie Hoppe, who is widely regarded as the best player of all time.
1953 World Three-Cushion Tournament
When Hoppe resigned in 1952, there was speculation over who would win the 1953 world three-cushion championship, which would be contested in Chicago at the Chicago Town Club at the Sheraton Hotel. Eleven participants were scheduled to compete, with several of them returning from the previous year, including Chamaco, Katsura, Matsuyama, Bozeman, Kilgore, Procita, and Rubin. Harold Worst of Grand Rapids, Hollywood's John Fitzpatrick, Mel Lundberg of Minneapolis, and Ezequiel Navarra of Argentina all made their debuts in this tournament.
In Katsura's first match, she defeated Lundberg in 71 innings, then lost to Matsuyama in 39 innings, then again lost to Rubin in 52 innings, then won from Fitzpatrick in 50 innings, then won from Chamaco in 56 innings, and that lost and winning goes on. Results were announced, and Katsura gained the fifth position with her coach, Matsuyama. Kilgore won the title of the World Three-Cushion Tournament, and Bozeman and Navarra became second.
| | |
| --- | --- |
| Profession | Billiards Player |
| Net Worth | $6 Million Approx. |
| Monthly Income | None |
1954 World Three-Cushion Tournament
In 1954, Katsura was the only female player in the World Three-Cushion Tournament, held in Buenos Aires with 8 participants. Katsura, Ray Miller, Harold Worst, Juan, Ezequiel Navarra, Welker Cochran, Chamaco, and Kilgore. She defeated Miller in the first round, then Chamaco, and lost to Ezequiel Navarra. In Katsura's last match, she defeated Juan Navarra to finish fourth overall. On October 25, 1954, the last day of the tournament, Harold Worst and Ezequiel Navarra tied, forcing a playoff to be held, which was subsequently expanded to a 350-point format, in which Harold Worst eventually won.
Appearance in the Media
In March 1959, Katsura had an appearance on What's My Line? CBS' iconic primetime television show. During the same month, Katsura appeared as a guest on ABC's You Asked For It, showing how television productions set up and filmed a covered wagon rolling over and collapsing on cue. Katsura was invited to the "You Asked For It" broadcast on November 25, 1960, this time acting in her bailiwick and showing camera tricks.
Height
In Feet: 5 Feet 0 Inch
In Meters: 1.52 M
In Centimeters: 152 Cm
Weight
In Kilograms: 44 Kg  
In Pounds: 96 Lbs
Eye Color
Brown
Hair Color
Black
Instagram
None
Facebook
None
Twitter
None
Retirement and Legacy
In 1970, Katsura announced her retirement from billiards, but her interest remains the same. She was an example for all females who want to take their interests seriously. McGoorty bemoaned her resignation, citing several ideas he had heard circulated in billiard circles, such as her husband's death. In 1976, Katsura made an unscheduled appearance at Palace Billiards in San Francisco. She took a cue from a spectator and proceeded to run 100 points on the straight rail very easily. Katsura returned to Japan in or around 1990 to live with Noriko, her sister, where she stated she intended to spend the rest of her life.
Katsura's contribution to the billiards game is considerable, and she is still remembered as a pioneer in this game. She was elected posthumously into the Women's Professional Billiards Association Hall of Fame in 1999, and her contributions to the game are honored by billiards players worldwide. Her remarkable narrative serves as a reminder of the power of perseverance, devotion, and enthusiasm in following one's ambitions in the face of adversity.
Katsura's contribution to the game of billiards cannot be overstated, and she will be recognized as the queen of billiards for all time.
Katsura was featured in a Google Doodle on the Google home page on March 7, 2021, as part of the search engine's observance of International Women's Day.
Masako Katsura Cause of Death
After retiring from billiards in 1990, Masako Katsura went to Japan and wanted to spend her remaining days with her sister, Noriko. She died on September 13, 1995, after an 81-year life. Masako Katsura cause of death is not a big medical issue but aging. Masako Katsura cause of death was that, after five years of living with her sister, she died owing to normal aging phenomena since she had been ill for over five years.
Masako Katsura had lived a long and successful life, making memorable contributions to the game of billiards. Katsura's death sparked an outpouring of sadness and tributes from billiards players and fans all around the world. She was hailed as a great pioneer for women in the sport, and her billiards legacy continues to inspire future generations of players.
Despite severe obstacles and discrimination as a female player in a male-dominated sport, Katsura never gave up on her billiards love. Her devotion and hard work helped to break down boundaries and pave the way for women in sports, and her inspirational narrative is still remembered today.
Disclaimer
Our platform is strictly against online piracy and does not promote it in any way. We respect and comply with all copyright laws and take necessary measures to ensure our compliance with the acts. We aim to educate our users about the dangers of piracy and strongly discourage them from using such platforms or websites. As a responsible organization, we fully support copyright acts and urge our users to be cautious and refrain from accessing such websites. Therefore, we do not provide any links to such sites on our platform.