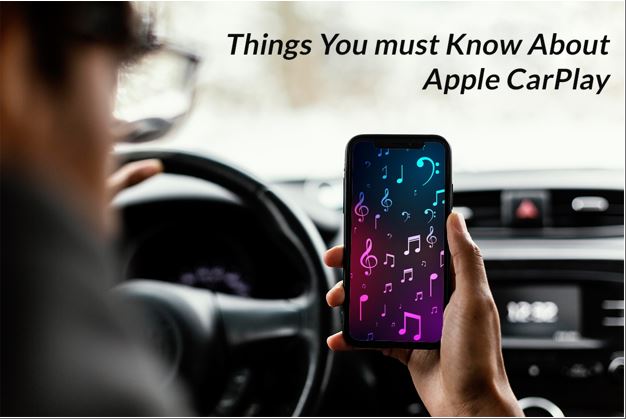 Want to use apps while driving? If you're an iPhone user, the solution is CarPlay. Here's everything you wanted to know about Apple's CarPlay.
What is CarPlay?
Apple's CarPlay is touted as the ultimate copilot. It is a safer and more intelligent way of using your iPhone while driving. Thanks to this feature, you can listen to your favorite music, send and receive texts, get directions, and make calls on your vehicle's in-built display.
Furthermore, CarPlay features custom wallpapers for the CarPlay Dashboard and several app categories, including Maps, Phone, Calendar, and Siri. The apps have been reimagined for the car so you can use them while keeping your hands and eyes where they belong. However, you cannot use distracting apps like Netflix or gaming applications.
CarPlay works with Siri voice controls and car controls like buttons, knobs, touchscreen, or touchpad. You can also handle temperature controls and radio from CarPlay to enjoy an exciting driving experience.
iPhone models & CarPlay – Compatibility
The following iPhone models support CarPlay:
iPhone 5 series
iPhone SE (1st, 2nd and 3rd generation)
iPhone 6 series
iPhone 7 series
iPhone 8 series
iPhone X, XR, XS Max, and XS
iPhone 11 series
iPhone 12 series
iPhone 13 series
iPhone 14 series
CarPlay Supported Cars
There are over six hundred car models to choose from that support CarPlay. In addition, almost every major car manufacturer is offering models compatible with CarPlay or planning to introduce them.
Some car manufacturers compatible with CarPlay include Acura, Abarth, Alfa Romeo, Aston Martin, Audi, Bentley, BMW, Buick, and Cadillac.
What to do if CarPlay Stops Working?
Sometimes, the best systems and features may crash and make you wonder why your Car Play stopped working. The possible reasons are:
Bluetooth connectivity issues
Damaged or faulty USB cable
Car compatibility issues
Outdated iOS version
Integration issues between applications
Fix this problem by ensuring CarPlay is compatible with your region and car. Next, check if CarPlay is enabled by going to Settings > General > CarPlay > select your vehicle from the My Cars section or hold the voice control button on your car's steering wheel to start the setup and pair your vehicle with your phone.
If your vehicle and iPhone are paired properly, ensure CarPlay is enabled in Screen Time. Go to Settings > tap Screen Time > tap Content & Privacy Restrictions > Allowed Apps > find CarPlay > enable it by swiping the toggle to the right.
Also, ensure that Bluetooth is connected and turned on.
How Can You Connect Your Vehicle to CarPlay?
You can connect your Apple smartphone to CarPlay in two ways.
Plug your smartphone into your vehicle's USB port with a Lightning cable. CarPlay will be seen on your vehicle's screen when it is connected. The compatible applications will update.
You can connect CarPlay wirelessly if you have one of those cars that support wireless CarPlay. If you drive such a vehicle, your smartphone will promptly set up a wireless connection and finish the process. This will happen automatically whenever you start driving.
Is Siri integrated with CarPlay?
Siri is an integral part of the CarPlay system, allowing users to control whatever is happening using their voice. Thanks to Siri, your hands can stay on the wheel, and you don't need to type on your phone blindly. Instead, you can use your voice to dictate what you want your phone to do.
With CarPlay, Siri typically works as it would with your phone. You just have to say Hey, Siri as a wake-up command and then tell the voice assistant what you need it to do. So whether you want to control music, find the nearest motel, or send a text message, Siri can assist you.
The only issue here is that Siri requires an Internet connection to function. Therefore, it would be best to connect to an active data connection. Also, you may experience a few seconds of lag because it is linked to the cloud.
Will CarPlay Control your Dashboard?
The next generation CarPlay is slated to be rolled out in September 2023. It will be released alongside iOS 17.
At the moment, Siri handles requests related to your device, and CarPlay is an external display for your phone. For example, Siri changes the volume but cannot raise the temperature or enable cruise control. This is going to change with CarPlay 2.0.
With the upgraded version, CarPlay can access car controls and take over the screen in your car. The updated version will be available for many vehicles, such as Honda, Audi, Ford, Porsche, Land Rover, and many more.
Some of the anticipated features of CarPlay 2.0 are multi-display support, instrument cluster integration, an FM radio app, climate control, and widgets.
Conclusion
CarPlay makes it safer to use your phone while driving. The feature is getting much more intuitive and interactive to make it better for drivers.