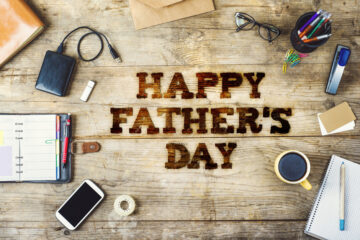 According to a 2021 article, 81.7% of fathers are employed.
This means that the majority of men are away from their families for 8 to 9 hours a day for up to 6 days a week and one-third of their lives. To make a living, fathers may miss important milestones in their children's lives, so why not use Father's Day this 2023 as an opportunity to show your appreciation for their sacrifices?
6 Winning Ideas for Celebrating Father's Day in the Workplace
Father's Day falls on the 17th of June this year. This gives you plenty of time to start planning events so you can show the fathers and the father figures in your company how much they mean to you. 
Beyond the sentimentality of the occasion, it's a great opportunity to highlight workplace inclusivity and diversity. Plus, it can boost employee morale, enhance company culture, and increase retention rates!
To that end, here are some creative ideas that will make the day more meaningful.
1. Gift an Experience
Your employees have lives outside work that involve their kids. So, why not offer them experiences that they can share with their children? It could be complimentary tickets to the zoo, free passes to movies, gift checks from restaurants —  basically, anything that will encourage them to spend time with the family. 
2. Give a Token of Gratitude 
Give the fathers in your office a thoughtful gift to show your appreciation.
Some gift ideas are:
A personalized coffee mug

A classic duffel bag

A cute dad hat

A nice picture frame where they can display pictures of their kids

A gift basket with snacks

A whiskey decanter

An Amazon gift card
Think outside the box. The idea is to show them (even in non-expensive and simple ways) that you recognize and honor their responsibilities as fathers.
3. Host a Bring Your Kids to Work Day
Close the office early for a "bring your kids to work" day. 
It will offer the dads an excellent opportunity to show their kids where they work, what they do, and what happens to them after they leave home. It will also allow you to see your employees in a new light. 
Kids get bored quickly, so be sure to plan fun activities to keep them entertained. You can:
Host office tours that kids and their dads can take together

Organize presentations where employees can talk to the children about what a day in their life is like

Arrange for some catering so everyone can enjoy a meal together

Hold contests (such as scavenger hunts) with prizes

Give out awards to the children like "Best Question," "Future Boss," and "Most Imaginative."
4. Organize A Virtual Experience 
Do you have a lot of remote workers?
Well, it could be challenging to get everyone in one place, so why not host a virtual celebration? You could use Zoom or Google Meet to host fun events like trivia games or a contest for the best dad joke ever. Whatever you decide, be sure to extend the invite to your employees' kids in advance so they can join the fun. 
If you have a hybrid setup, you can rent virtual reality equipment, set up challenges, and plan fun adventures together. It's an out-of-the-box idea that will make employees happy, boost teamwork, and make you more popular with your people! 
5. Plan a Family-friendly Picnic
Invite your employees to a family-friendly picnic at the local park or community center to foster bonding between the dads and their families. Be sure to make arrangements for food. The event can also include fun activities like face painting, potato sack races, tug of war, etc., to keep everyone engaged and happy. 
Taking the worry out of impending deadlines will reduce your employee's stress, thus helping boost employee morale. It's a win-win. 
6. Treat Your Employees to Lunch 
You can take the dads in your office to lunch at a cute cafe or break bread at the office. Run a survey and have them pick out the cuisine to show that this celebration is all about them. 
If you have the budget, you could also have your employees invite their father figure. 
Tips To Make Your Father's Day Celebrations a Hit
1. Put Up Posters 
Have you heard of the phrase "out of sight, out of mind"?
Emails are good for communication, but if you're trying to keep the upcoming event fresh in your employee's minds, put up posters to communicate the details and get them excited. If you don't have the budget to design one, you can find an impressive collection of ready-to-use templates for Father's Day posters at PosterMyWall.
2. Offer Time Off
Consider giving your employees a day off on either the Friday before the big day or the Monday after so they can spend extra time with their families.
It's a great way to show them that your company values their roles at home.
3. Be Flexible and Inclusive
Give employees who don't have children options so they can be part of your celebrations too. Whether it's having a shorter work day or sponsoring Father's Day events, include them in your plans so they don't feel left out and unengaged.
In Conclusion 
Celebrating Father's Day on a corporate level is a personal gesture that your employees will appreciate.
So, pick any of these initiatives depending on your budget. With online tools like PosterMyWall, you can create anticipation and communicate your plans without going over budget. You'll see your return on investment when your employees become happier, more balanced, and more productive as a result. Read more wikipedia