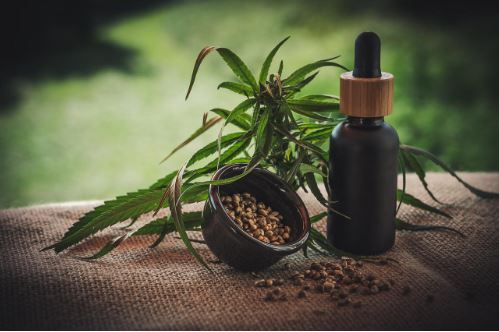 With the legality of CBD in many states, people are becoming increasingly aware of this plant's many health benefits. In fact, people are increasingly turning to CBD oil as a natural medication alternative to traditional medication.
Now, CBD is available in various products, which can make it a bit overwhelming to choose the right one. Now, the people who want to benefit from CBD can get it in the form of CBD oil, CBD topical, CBD edibles/ gummies, and they can consume CBD by smoking/ vaping it.
Health Benefits of CBD
CBD is now not only used for recreation, but its medical implications are massive. For instance, people avail of medicinal marijuana to treat their chronic stress, migraine, PTSD, and anxiety. CBD has also been found effective in decreasing and controlling pain related to arthritis and MS (Multiple Sclerosis) and the pain that results from the after-effects of chemotherapy and cancer treatments.
You get the point – healthcare professionals have recognized the health benefits of marijuana, which is why getting a medical cannabis card in Virginia and other states that have legalized medicinal marijuana has become easy now. All you need to do is to get a medical prescription from a licensed doctor, and you must be above eighteen.
The doctor will ensure that you have a medical condition that can be improved or controlled with the help of marijuana. The healthcare professional will also prescribe a recommended dose so that marijuana doesn't interfere with other medicines you might be taking.
Now, let us have a look at the different ways to use CBD products:
CBD Oil
One of the most popular ways to take CBD is in the form of CBD oil. In fact, CBD oil tends to be the most widely available form in which you can take CBD. CBD oil, also known as CBD tincture, allows you to consume CBD orally without having to smoke it.
CBD oil is typically made by extracting the CBD from the marijuana plant and diluting it with an essential carrier oil, such as coconut oil or hemp seed oil. The CBD oil is then bottled up and matched with a dropper that enables you to take it orally by placing a few drops of CBD oil underneath your tongue.
Don't be quick in swallowing the CBD oil; instead, you will want to hold the CBD oil in its place for at least a minute before swallowing it. This way, you will enable the CBD to get absorbed in your bloodstream quickly, and you will benefit from its effects sooner.
The best part about consuming CBD oil is that you can consume it discreetly. Also, CBD oil is quite affordable compared to other forms of CBD, such as CBD gummies and capsules.
The essential benefit of taking CBD in the form of CBD oil is that it offers a higher bioavailability, which means that a larger percentage of CBD is absorbed in your system, and you can experience its effect faster.
CBD oil also offers versatility, which means that you can add it to food and beverages.
CBD Pills & Capsules
If you prefer the traditional aspects of taking meds, then you will want to opt for CBD capsules, pills, and softgels. No complexity is involved in this tactic, as all you need to do is swallow the pill or capsule with a glass of water.
CBD pills are easy to incorporate into your daily routine. Depending on your doctor's prescription, you can take CBD pills once or twice a day. The essential benefit of taking CBD in capsule forms is that you get the exact dosage you need for your body.
Each pill will contain a fixed amount of CBD, making it easy for the person taking the drug to know the exact amount they are consuming. Compared to CBD oil, CBD capsules don't carry that strong earthy flavor that some people might find unpleasant.
However, on the downside, CBD pills are more expensive than CBD oil. Moreover, the bioavailability of CBD capsules is certainly lower than other CBD forms, such as CBD oil. This aspect indicates that you might be taking a pill as medicinal marijuana, but a lower percentage of marijuana will get absorbed in your bloodstream because the content will first get processed through the digestive system.
CBD pills are suitable for people who don't smoke but want to experience the health benefits of CBD. So, if you want a straightforward delivery method, you might find CBD capsules a better alternative to CBD oil and smoking CBD.
CBD Gummies
If you don't want to swallow pills or place CBD oil underneath your tongue, then your best option would be to opt for CBD gummies. The best part about CBD gummies is that they are available in the form of candy and gummies.
These gummies are available in a variety of fruity flavors, and you can choose your favorite one. Depending on your health issue, you can take CBD gummies once or twice a day. You can, however, also take CBD gummies whenever you feel like it.
The best aspect of CBD gummies is that they are yummy and super-easy to take, especially for people who have a busy lifestyle and like to take their gummies on the go. Similar to CBD capsules, CBD gummies offer a precise dose so you know exactly what you are taking.
The thing about CBD gummies is that they are more expensive than CBD oil. And compared to CBD oil, the bioavailability of CBD gummies might be lower. So, you might opt for CBD gummies with a higher concentration of CBD so they can meet your health goals.
It is important to mention here that CBD gummies and candies might not be suitable for people who are allergic to certain ingredients, including artificial flavoring and corn syrup. So, if you are opting for CBD gummies, you will want to thoroughly go through the list of ingredients to make sure that it is safe for you to consume.