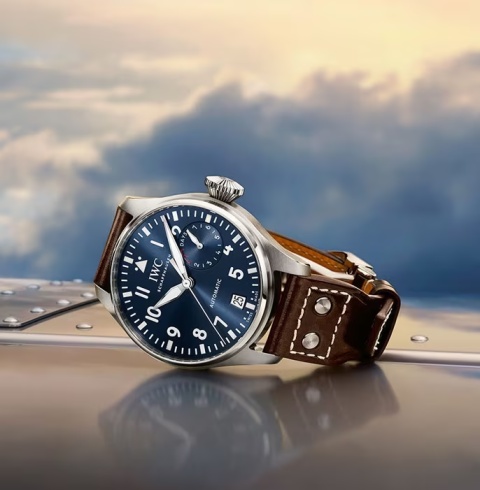 Step into the world of luxury and sophistication with IWC Schaffhausen, the Swiss luxury watch brand renowned for its exceptional craftsmanship and timeless design. In this blog post, we invite you to discover the best IWC men's watches, a showcase of the brand's commitment to excellence, and unparalleled quality. Experience the art of Swiss watchmaking at its finest, and elevate your style with the perfect IWC timepiece.
How IWC Men's Watches Became So Popular
IWC Schaffhausen is a Swiss luxury watch brand that has been producing exceptional timepieces since its founding in 1868 by American watchmaker Florentine Ariosto Jones. Located in the town of Schaffhausen in the northeastern part of Switzerland, the brand has a rich history of combining American ingenuity with Swiss craftsmanship to create watches that are renowned for their precision, durability, and timeless design.
Throughout its history, IWC has achieved numerous milestones and achievements that have helped to establish its reputation as one of the world's leading luxury watch brands. In 1936, IWC introduced the first IWC Pilot's Watch, which was specifically designed for pilots and featured an anti-magnetic case and a rotating bezel to help calculate flight times
In the 1950s and 60s, IWC started to create sports watches besides pilot's watches, such as the Aquatimer and Ingenieur, which were designed to withstand extreme conditions and perform well in challenging environments. The Ingenieur, which was first introduced in 1955, has become a favorite among collectors for its bold and distinctive design, while the Aquatimer, first introduced in 1967, has become a favorite among divers for its exceptional performance in underwater environments.
IWC Portugieser Collection
The IWC Portugieser collection is one of the brand's most iconic and beloved collections, known for its classic design, exceptional craftsmanship, and impressive functionality. The collection has a rich history that dates back to the 1930s when two Portuguese businessmen approached IWC with a request for a watch that could match the accuracy of a marine chronometer.
These watches are large-sized and have exceptionally accurate movements. The Portugieser collection is known for its clean and classic aesthetic, featuring a round case, a simple dial layout, and elegant Arabic numerals.
IWC Pilot's Watches Collection
The IWC Pilot's Watches collection is one of the most recognizable and iconic collections from the Swiss luxury watch brand. One of the most notable features of the Pilot's Watches collection is its aviation-inspired design, which includes large, legible dials, and bold Arabic numerals. The watches also often feature a triangle with two dots at the 12 o'clock position, which is a nod to the design of cockpit instruments.
One of the standout models in the collection is the Big Pilot's Watch, which features a large 46mm case, oversized crown, and a power reserve of up to seven days. The watch is also available in a perpetual calendar version, which displays the day, date, month, and moon phase, and doesn't require manual adjustment for the rest of this century.  Whether you are a pilot, a frequent traveler, or simply a lover of aviation-inspired watches, the Pilot's Watches collection has something to offer.
IWC Aquatimer Collection
The IWC Aquatimer collection is a popular line of dive watches that combines the precision and innovation of IWC with the functionality and durability required for underwater exploration. The collection has a rich history that dates back to the 1960s when IWC first started producing dive watches.
One of the most notable features of the Aquatimer collection is its water-resistant design, which enables the watches to withstand the pressure and demands of deep-sea diving. The watches also often feature a rotating bezel, which can be used to measure dive times, and a depth gauge, which displays the current depth of the watch.
The Aquatimer collection includes a range of watches, from simple time-only models to more complicated chronographs and perpetual calendars. One of the standout models in the collection is the Aquatimer Automatic 2000, which has a water resistance of up to 2,000 meters and features an internal rotating bezel that can be operated even when wearing gloves.
These collections each have their unique history, design, and functionality that make them stand-out options for any watch enthusiast.
The Portugieser collection boasts a classic and elegant design, combined with a range of complications and functions, including the chronograph. Meanwhile, the Pilot's Watches collection takes inspiration from aviation and combines it with practical functions, such as the chronograph and GMT function, making it a popular choice for frequent travelers. Finally, the Aquatimer collection is designed specifically for diving enthusiasts and boasts impressive water resistance, a rotating bezel, and a depth gauge, among other features.
All of these collections exemplify IWC Schaffhausen's commitment to precision, innovation, and durability, making them worthwhile investments for anyone looking for a luxury watch that will stand the test of time.